Location
Derb El Kaouss
(Rue de la Voûte)
You can park your car on the road to the port between the castle and the entrance to the fishing port, the car park is supervised and fee paying.
If you arrive by taxi, ask the driver for "Sidi Boudhab" (at the bottom of the medina). Once you arrive at Sidi Boudhab by foot take the shopping street (rue du Socco to the right of the ramparts) and after 50 metres enter the gateway to the right just before the chemist. This is Derb El Kouss (Rue de la Voûte) go just as far as number 26 and you are there!
If you have any trouble finding us do not hesitate to call us by phone.
NB: arriving from the direction Marrakech is always the easiest, just keep going straight on until you arrive facing the sea and the castle, then turn right and you are on the road to the port.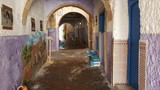 Cycle parking, surfboards and motorbikes
There is no problem to park or store your bicycle or surfboard at the villa and we can accommodate up to two trail sized motorbikes at a time.
Contact Information
26 derb El Kaouss
46000 Safi
Maroc
(Route du Port)

Tél: + 212 524 464 527


Geographic coordinates:
32.29820, -9.24288